History
The Mülsner district Thurm was first mentioned in a document in 1320.
The building of the present pension was built around 1800. At this time about 80 people lived in Thurm. Around 1845 the village centre with the Scheffler smithy (outbuilding), the inn and the present pension building was built. Until 1936 the family Arthur Günnel ran a general store including a post office, therefore the house was also called the heart of Thurm. After that it was only used as a residential house.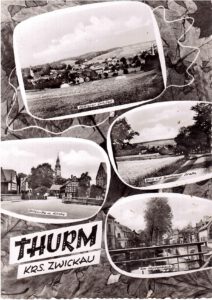 In May 1990 Klaus and Helga Schmidt bought the building with the intention of offering overnight accommodation in Thurm. The name was quickly found. The name of the pension "Alte Post" is based on the original use of the building. Thanks to a lot of own work and the support of friends and acquaintances the pension could be opened in November 1991.
From April 1992 to 2008 there was a small restaurant on the ground floor. From this time on the pension developed to a trademark in Thurm. The many events which were organized and carried out together with the team of the Gasthof Thurm remain in memory.

Meanwhile there are many regular guests and people from at least 25 different nations have stayed in the pension. In the years 2015 and 2016 the pension was renovated and extended by one more room.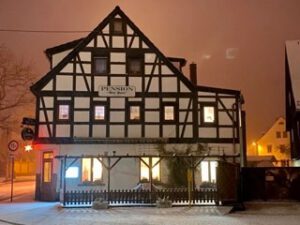 After 25 years Helga Schmidt passes the baton to her son Markus and her daughter-in-law Beate Schmidt, who have taken over the pension from 2017.